Sanatana Dharma Seva Gramam (Podili)
What is the vision of 'Sanatana Dharma Seva Gramam'?  
Revival and propagation of the Sanatana Dharma among youth and upcoming generations has become a dire need of the hour. It is extremely important that right channels of participation and opportunities are developed and made available to youngsters, to be able to involve them and provide them a conducive environment to stay connected and rooted to our culture.
With this intention of sowing the seeds of Sanatana Dharmic way of life among youth of the modern age & children right from a tender age

,

Sri Kanchi Kamakoti Peetadhipati Jagadguru Sri Sankara Vijayendra Saraswati Swami

, has launched this noble and unique service initiative titled as the 'Sanatana Dharma Seva Gramam' in Podili near Ongole, Prakasham District, Andhra Pradesh.
What are the goals of Sanatana Dharma Seva Gramam?
Overview

In a scenic landscape sprawling over 31 acres, this project envisages to create an institution that serves the local community in several ways.
The project proposes to provide a beautifully integrated platform of education, imparting modern education coupled with the study of Vedas, Shastras and other Dharmic subject areas. 

Strengthen local community

School for Children from 6th to 12th standard
Public health center to address local healthcare needs
Sport center where all locals people can train and achieve excellence in sports arena.
A skill development center is planned to train locals in Shlipa Shastra and Nadaswaram

Strengthen Dharmic way of life

Certificate courses in Goshala management,
Certificate course in Temple management
Certificate course in Charitable Organization management.

Learning Infrastructure

Shri Kanchi Kamakoti Sankara Vidyalaya for general public: CBSE/State syllabus School from 6th standard to 12th standar
Shri Kamakshi Skills Development Center: Train and enable local population in skills like –shilpa kala, pottery, horticulture and agriculture, tailoring, electrical, plumbing, carpentry, arts & crafts, driving etc.
Shri Chandrasekharendra Saraswathi Institute for Sasnkrit and Vedic studies: Propagate Vedic studies with focus on Sanskrit and Sanatana Dharma
Shri Sankara Advaita Research Center for research: Research on various aspects of Vedas, Vedangas and Upanishads along with extensive library.

Living Infrastructure

A full-fledged Sri Sankara Hostel for Vedic students and accommodation for Adhyapakas with kitchen and dining facility as per vedic standards combined with modern cooking utilities. Each room will accommodate three students and will house more than 100 students. There will be classrooms for Vedic teaching with each classroom named after the Sapta Rishis. The halls, auditoriums and exam rooms etc will be appropriately named after great saints of India.
A full-fledged guest house for visiting Vedic scholars and faculty Sri Jayendra Saraswathi Health Center to provide out-patient services to the local population and health care for students studying in the project complex.

Cultural Infrastructure

A full-fledged Goshala with emphasis on breeding and rearing rare indian cows and for protection and safety of aged cows.
Yagasala for training and conducting various Homas and Yagas
Vyayamashala to be named as Hanuman Sports Complex
Pushpa Vatika with focus on Nakshatra Vanam with plants for each of the 27 stars from Ashwini to Revathi
An art and photo gallery and exhibition of Vedic texts and scriptures
A yoga center and indoor sports room for indoor games
Where is Podili ? 
Podili is located 50 KMs to the west of Ongole, on Srisailam route. It is well connected through public transportation by Rail and Road.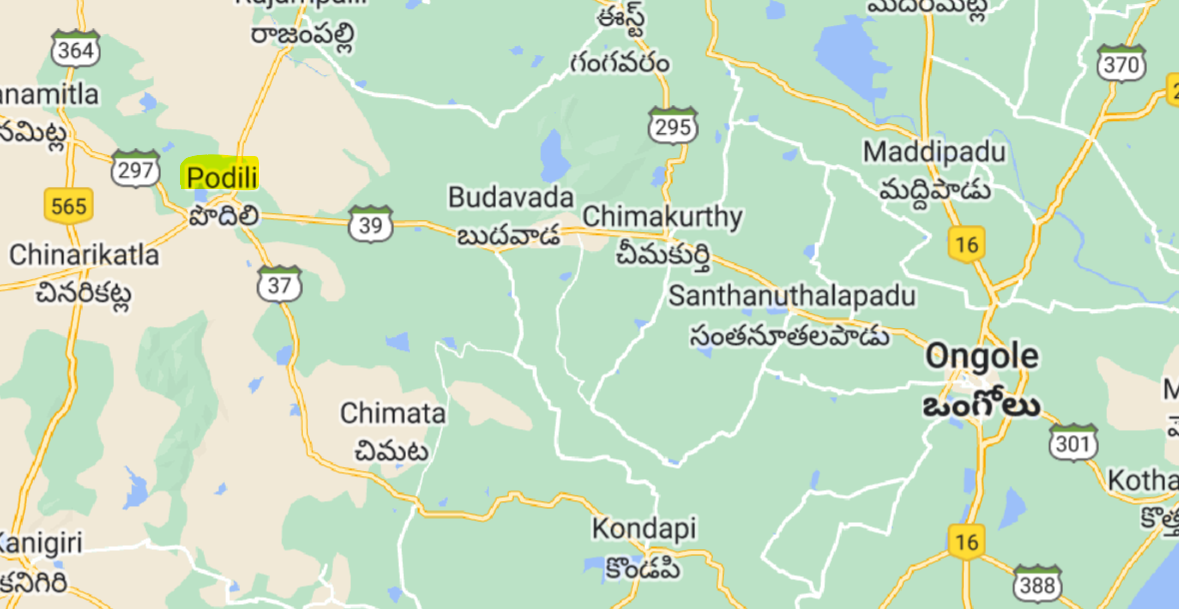 How can I support?
Needless to say, it becomes extremely important for individuals of the community to come together and join hands, to build a strong and sustainable model of value-based systems of education, the sole intention being the welfare of our own upcoming generations.
In fact, this should be looked up to as a platform of opportunities for individuals to contribute towards a bigger mission of Dharma Samrakshana.
All devotees are requested to come forward and extend their support in any possible scale towards this noble cause.
If you want to contribute in Indian Rupees : 
You can participate as a Poshaka with a donation of Rs. 51,000/,
You can participate as a Rajaposhaka with a donation of 1,00,001/- and/or as a
You can participate as a Maharajaposhaka with a donation of 5,00,001/- & above.
You can become a Sevaka with a small donation of Rs. 1,116/-.
You can also choose to make a monthly donation of a fixed amount.
You can donate in INR or in foreign currency.
This trust has 80(G) exemption and receipts can be provided as needed. Oversees donations are also eligible under FCRA.
For INR donations: Sri Pratyaksha Charitable Trust, City Union Bank Ltd, Thousand Lights Branch, SB A/C NO: 049001000645148, IFSC: CIUB0000049
If you want to contribute in US Dollars or Other Currencies
We request the US based families to pledge to giving

$1001 per year for 3 years

for this project.
Click on Donate link and choose the "Education" Pillar. After you click on Education pillar, you will be sent to paypal page. Under the paypal dropdown list, please choose "Sanatana Dharma Seva Gramam- Podili" for your funds to goto Podili project.
Who can I contact ?
For overseas donors, please email

contact AT kksfusa.org

for more information.
For India based donors, please contact Krishna Mellacheruvu: +91 94404-41417; Mahaswami Seva Samiti : +91 94907-29624, +91 96663-29624; Viswanathan Nallur: +91 88861-12586