Bhagavad Gita Classes
---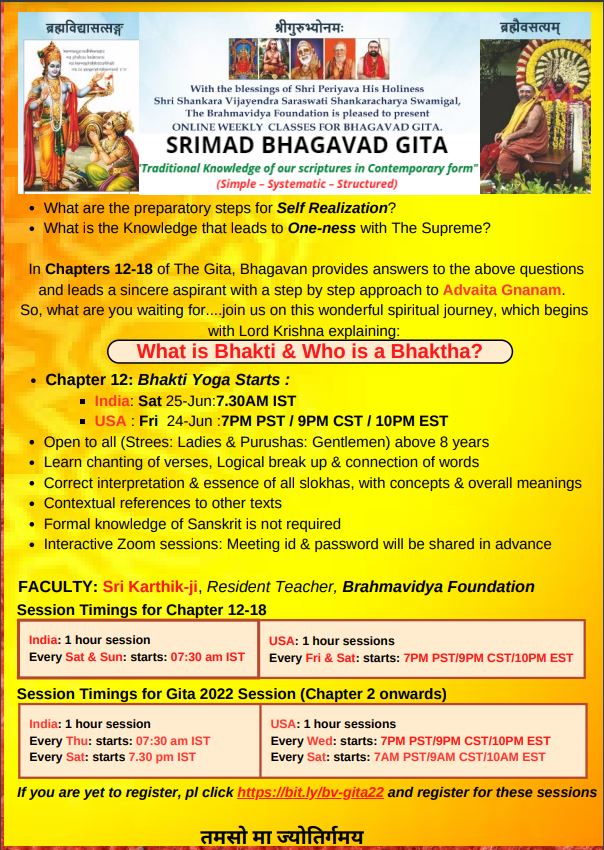 About the Program
Gita Study Course, jointly organized by Sri Kanchi Kamakoti Seva Foundation – USA & Sri Kamakoti Bhakti Kendra – USA in association with The Brahmavidya Foundation.
Gita is The Scripture of Mankind and cuts across all barriers of gender, caste, creed, nationalities, religion etc.
Only requirement is sincere effort on the individual to attain the state of everlasting happiness, which is possible only by systematic study of The Gita under a competent TRADITIONAL TEACHER for a significant period of time.
What are the benefits of studying The Gita?
• Live a life of life free from SAT (Stress, Anxiety and Tension), irrespective of circumstances and situations around us
• Most relevant scripture that acts as a PRACTICAL GUIDE to daily life for everyone
• Provides easy tips, tools and techniques for peaceful and harmonious living
• Contains the Essence of our Timeless Wisdom for ever-lasting happiness
When
Chapter 2 onwards:
Wednesday evenings at 10 PM Eastern (9 Central / 7 Pacific) & Saturday mornings at 10 AM Eastern (9 Central / 7 Pacific)
Chapter 12 onwards:
Friday evenings at 10 PM Eastern (9 Central / 7 Pacific) & Saturday evenings at 10 PM Eastern (9 Central / 7 Pacific)
HOW TO
Register at https://bit.ly/bv-gita22 to get timely updates. The registration information will be used only for communication and administrative purposes.
CONTACT
gitacourse2022 @ gmail.com
FORMAT
Zoom (details will be available upon registration)
Livestream on Brahmavidya Foundation YouTube channel
METHODOLOGY
Chanting of verses, word-by-word pada-vibhaaga (separation of words), anvaya (logical connection of words), bhaavaartha (essence of the shloka) and detailed explanations in English for all shlokas with contextual references to other texts.
Note: Medium of communication will be ENGLISH. No formal knowledge of Sanskrit Language is required. This will require a long-term commitment, with a beautiful take-away from each class, and sessions are interactive.
Course Materials:
For live and recorded versions to Livestream classes on Youtube, please click https://bit.ly/YT-G22List
Playlist of past livestreams Gita 2022 Classes Live Streams – YouTube
Playlist of learning videos Gita 2022 learning videos – YouTube
Soft copy of Gita in any of 6 languages at https://bit.ly/Gita-Books
Class notes at https://bit.ly/BG-RESOURCES
For the latest updates from BrahmaVidya Foundation (BVF), do subscribe to the BVF YouTube channel by clicking https://bit.ly/yt-brahmavidya
ELIGIBILITY
Open to all: Ladies (strees), Gentlemen (purushas), and children older than 8 years
FACULTY
Sri Karthik-ji, Resident Teacher, Brahmavidya Foundation
HH Sri Perivaa's anugraha bhashanam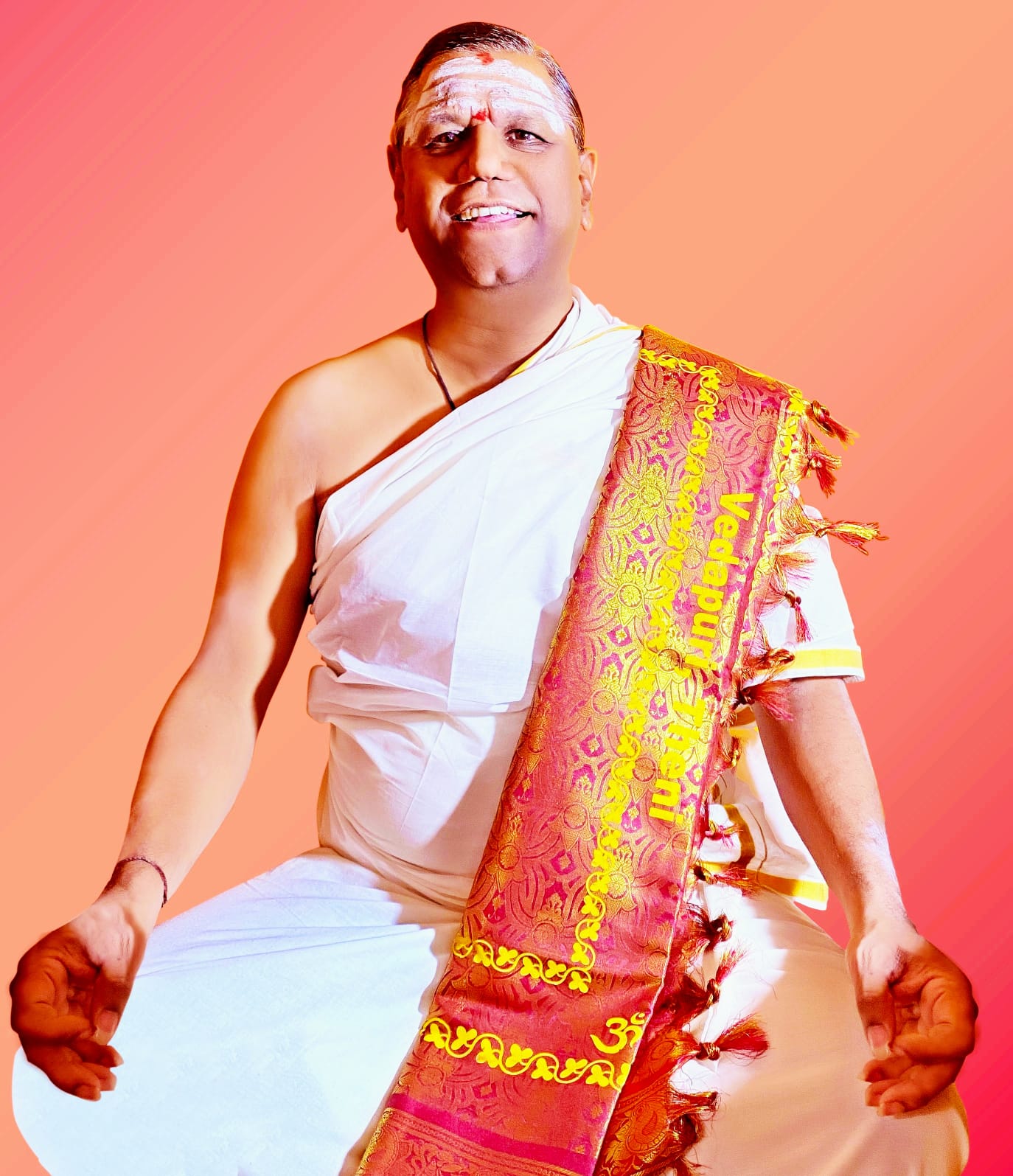 About the Teacher
The Brahma Vidya Foundation was initiated, named and founded by HH Sri Periyava in the early 2000s with Sri Karthik-ji as the Resident Teacher to focus on teaching our scriptures in contemporary form without compromising tradition.

An Engineer by qualification, Sri Karthik-ji has undergone traditional training of the Vedas and the Vedanta for over 3 decades. As part of his corporate career working with people across the USA, Europe and Asia for over 2 decades, he could validate the universal truth that all people are in pursuit of the same goal of peace and everlasting happiness.

The key to ever-lasting happiness lies in acquisition of Wisdom (Vedanta Gnanam), and Sri Karthik-ji's unique contribution is in presenting The Timeless Wisdom for Eternal Happiness in contemporary form. Please watch https://bit.ly/timeless-wisdom-eternal-happiness for an exposition on this unique topic.